Welcome to the Our Favourites series, Issue #001!  Over the next few months we are going to share  with you a series of articles that provide succinct lists of the very best Brisbane has to offer. We will cover a range of subjects – from the most interesting museums, great shops, restaurants, local markets, to where you can snag the best espresso.
To kick off: our favourite markets in and around the Brisbane CBD.  We have enlisted the help of our guides and few locals too.  Let's get started!
Eagle Farm Markets
First up, we have a recommendation from Sarah, a resident of Hamilton, Brisbane, for over twenty years, and novice foodie. About the Eagle Farm Markets she says:
"These markets are the perfect answer to your lazy Sunday morning needs. I love to get my fresh fruit and veggies from here, and also stop by various stalls for some gourmet treat inspiration and delicious coffee. I also like to take in the splendour of the place – it's based at the heritage listed Eagle Farm Racecourse, which is worth the visit alone."
The Eagle Farm Markets are held every Sunday from 7.00am – 12.30 pm and boast over 100 stalls featuring everything from flowers to fresh produce, with plenty of food and entertainment on hand.
Brisbane Record Fair
Rose is one of Walk Brisbane's expert tour guides and can be found leading both our City Essentials and Art and Design Tours. She has provided her top two Brisbane market recommendations, starting with the Brisbane Record Fair.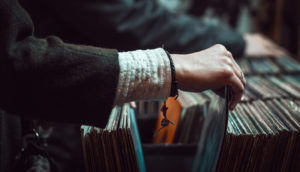 Rose says:
"The Brisbane Record Fair is held on the second Saturday of the month and is mecca for crooners and skinnys alike. You can find vinyl, CDs and even an 8track if you look hard enough. What I love best though is when you've had enough of fingering the dust covers and watching the musos finger their fret boards, there are bookshops, zine1 stores, coffee stops and gelato bars three minutes in every direction. You can spend the day , or afternoon , wandering the stores and never have enough."
The Finders Keepers Market
Another recommendation from Rose:
"They started off as a small weekend market to show off the wares of local artisans and grew to a three day festival with craft, food, and fantastic music!"
The Finders Keepers Market is a three day affair, twice a year, and will be held next on 22-24th June! As Rose stated, the festival is all about showcasing local art, and is the perfect place for conscious consumers. You'll be met with an array of art and design wares, and live music and art!
Carseldine Markets
Our next recommendation comes from the owner of Walk Brisbane, Lee-Anne.  She recommends the Carseldine Farmers and Artisan Markets in North Brisbane. She says: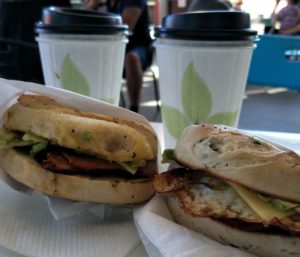 "The Carseldine Markets have just celebrated their fourth birthday and are held every Saturday morning between 6am and 12 noon. Located on the site of the old QUT Carseldine Campus, Beams Road, Carseldine the markets are a melting pot of fresh produce, local art and craft and my personal favourite a huge selection of breakfast options.  We always have breakfast first before hitting the local stallholders.  The quality of the food is second to none."
The need to know: Free parking and free entry,  and open every Saturday 6am-12noon.
Jan Powers Farmers Markets
Lastly, Ellen, a legal secretary who used to have the role of organising the weekly office mid-week lunch.
There are four venues where this market is held, but it's the Wednesday market at the top of Queen Street Mall that Ellen says she feels most connected to.
"I once worked as a legal secretary in Brisbane. Each Wednesday, my office held a BBQ lunch party – a much welcomed mid-week break. I was regularly placed in charge of securing the food goods, and it was with pure glee that I left the confines of the office and ventured out into the sunny Qld day.
Knowing exactly where to head – the Jan Powers Farmers Market – I took my time wandering past each stall, savouring the smells and noises. A successful mission meant l Ieft with my arms full of gourmet sausages, cheeses, and the office favourite: sweet-n-salty popcorn from The Popcorn Man"
Jan Powers founded the first Farmers Markets in Brisbane almost 30 years ago. She is a well-known Brisbane-born legend, who went on to become one of our most famous 'foodies'.  Her passion lies in supporting local farmers, and advocating for quality and delicious produce.
See here for details. And if you book one of our City Essentials tours on the right day, you will walk right by this vibrant market, and can stop in for a quick drink or taster! 
---
1 Zine is short for magazine and it's the creative communication of something. It's usually done very cheaply, often on a photocopier. It's very low-fi and could be a collage, fiction, non-fiction, political, or visual.