When you're travelling the last thing you want is a big data bill when you return home. Fortunately, Brisbane has plenty of free wifi options so be sure to bring your smart phone, tablet and laptop.  
When you are on a walking tour with Walk Brisbane we offer our guests free use of our Wi-Fi, but for other times here's our favourite spots in the Brisbane City Centre:
Queen Street Mall
The hub of the City Centre shopping district with plenty of outdoor bench seating.  The maximum download speed is 512kbps, so it's enough for a quick browse. Available 24/7, gets busy at lunchtime on weekdays.
Brisbane Square Library
The fastest and most comfortable free wifi in the City Centre. Great if you need to work or if the weather is anything but perfect outside. Quiet and airconditioned with lots of power points, easy chairs and desks on the ground and second floors.   No time limits and about as fast as it gets in Australia (read: not as fast as lots of other countries, but we're surviving).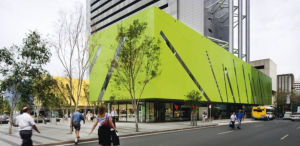 Opening hours are:
Monday to Thursday:            9am to 6pm
Friday:                                   9am to 7pm
Saturday and Sunday:         10am to 3pm
Before 9am on weekdays you can also sit in the library foyer and log in – there's couches and a café.  George St between Adelaide St and Queen St.
City Botanic Gardens
A quiet sanctuary only a 10 minute walk from the Queen Street Mall. Lots of shade and you might spot a water dragon or two! Picnic tables and park benches are dotted throughout the Gardens. Best if you have young children with you – there's a great playground.  The free daily walking tours of the Gardens at 11am and 1pm are pretty good too if you're into plants and trees. The Gardens are on Alice St.
Post Office Square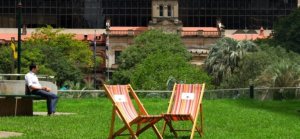 Top spot for people watching if you want to be distracted. Post Office Square is a nice grassy space with deck chairs. My pick if you want to stretch out and enjoy the sunshine.  It's located on the block bounded by Queen St, Adelaide St, Edward St and Creek St.
Brew
Best free wifi for evenings – not totally free of course as it's a café, but the coffee, beers and food are pretty good. Brew is a great spot close to the Queen St Mall, it never gets so busy you feel bad for taking up a seat all morning, and the menu is reasonably priced. A little grungy and slightly tricky to find (down a dodgy looking laneway), but a range of seating and good connection.
Opening hours are:
Monday:         7am to 5pm
Tues/Wed:    7am to 10pm
Thu/Fri:          7am to 11:30pm
Saturday:       9am to 11:30pm
Sunday:          10am to 4pm