Looking for a different way to spend some time ?  Here's five things to do in Brisbane this winter that you may not have thought of:
1.  A Walk Brisbane Tour (of course!)  
Just passing through for a few days? Want to dazzle your workmates with amazing Brisbane trivia? New to Brisbane and up for some company? Keen to burn 750 calories without even noticing? If you like art, history, bars, coffee, gardens and more, check out our walking tours here.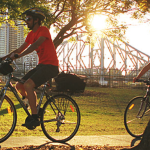 2.  Brisbane By Bicycle
Away from the City Centre, it doesn't matter if you haven't been on a bike for twenty years – this is easy pedalling and a great way to see the inner suburbs.  Return to South Bank with a new view on Brisbane and remember how much you loved your bike as a kid.   And Brisbane by Bicycle's Ross is super laid back – you'll love him.
3.  The Escape Hunt Experience
There's a bunch of puzzle room games offered in Brisbane now, and The Escape Hunt Experience is one of the best. Challenging but achievable, you and your team have one hour to solve a mystery set by gathering clues, cracking codes and solving puzzles to escape the room before time runs out.  Fast becoming one of the most popular things to do in Brisbane.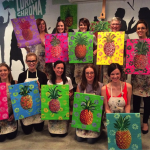 4.  Cork and Chroma
Wine and art you say? If you're feeling the need to be 'productive' on your night out, why not create some original art?   You BYO wine, they provide everything else, you learn basic painting techniques while the wine does it's magic, you bring home a painting. Mum's Christmas present sorted!
5.  City Hall Clocktower
Seriously, it's pretty awesome. Totally free, it only takes 15 minutes (hello lunchtime activity), the history is cool and the view is great.  Seven days, 10am to 5pm, find out about tickets here.