A great place to beat the heat or just get away from it for a while in the CBD is the City Botanic Gardens.
The river frontage provides a top opportunity for walking, cycling or just sitting. The Gardens are open 24 hours a day and the pathways are lit at night.  There's free wi-fi throughout.
Follow George, Albert or Edward Streets east to Alice Street and you'll be at the Gardens within 10 minutes. 
The area was established in 1828, originally to provide food for the early penal colony. The Gardens officially opened in 1855, to trial crops and plants from around the world to determine their suitability for growing in Queensland, and to establish ornamental plant collections for residents to enjoy.
Popular plants introduced at this time included mango, pawpaw, ginger, poinciana and jacaranda trees. Queensland's first sugar was produced here in 1862.
Free guided walks leave from the Rotunda Monday to Saturday at 11am and 1pm – the walk takes around an hour and no bookings required. The Gardens Club, located in the old curator's cottage, is open from 8am to 4pm daily providing coffee, lunch and snacks.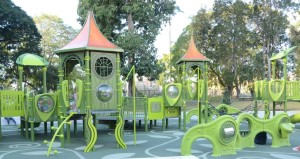 If you have children with you, the Gardens playground is definitely worth checking out.  Part castle, part fort,  it looks a little like a Tim Burton movie and there's something for everyone:  slippery dips, climbing nets, interactive panels, musical tubes and a sand play area.
 A little segue … for almost 100 years the Gardens were home to Harriet the tortoise, who was reportedly collected by  Charles Darwin during a visit to the Galapagos in 1835. In 1860, she was donated to the zoo that was part of the Gardens until 1952, by John Wickham, a former commander of Darwin's vessel the HMS Beagle, who was governor of the settlement.
Harriet spent her final years at Australia Zoo where she died in 2006 at the ripe old age of 175 years.
Don't confuse the City Botanic Gardens with the Brisbane Botanic Gardens, a ten minute drive from the CBD. The gardens at Mt Coot-tha were opened because floods from the river were washing away rare species so an alternative was needed!